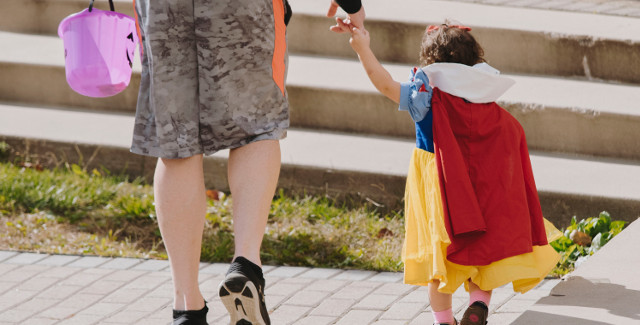 It's kids favorite time of year again — Trick or Treating! Halloween can be so much fun, especially if you plan ahead a little and make sure your outing with little ones puts safety first. Here are a few tips to make sure everyone is all smiles and no boo-boos on Halloween night.
Choose a costume that is comfortable — not to hot and not too thin. Keep an eye on the weather and layer accordingly.
Shoes that are easy to walk in for an extended period of time are best. It will be dark and some sidewalks and yards can present obstacles and uneven surfaces.
Give each child a little flashlight to carry so they can see where they're going.
Add glowstick bracelets or necklaces to your kids' costumes so you'll be able to keep track of them easier in the dark.
Parents, carry a bigger bag (for each child) with you so that if little ones' candy sacks get to heavy you can transfer some for you to carry for them. It's hard for small children to carry something heavy in the dark. Prevent falls!
Only visit neighborhoods and homes that are decorated, lights on, passing out candy visibly on their porch or at their door.
Walk with your child at all times, even up to the door. This gives you a chance to meet other adults in your neighborhood and build a relationship with them!